Hover over images for details and price  •  Click on images for larger view  •  Click X in upper right to return to this page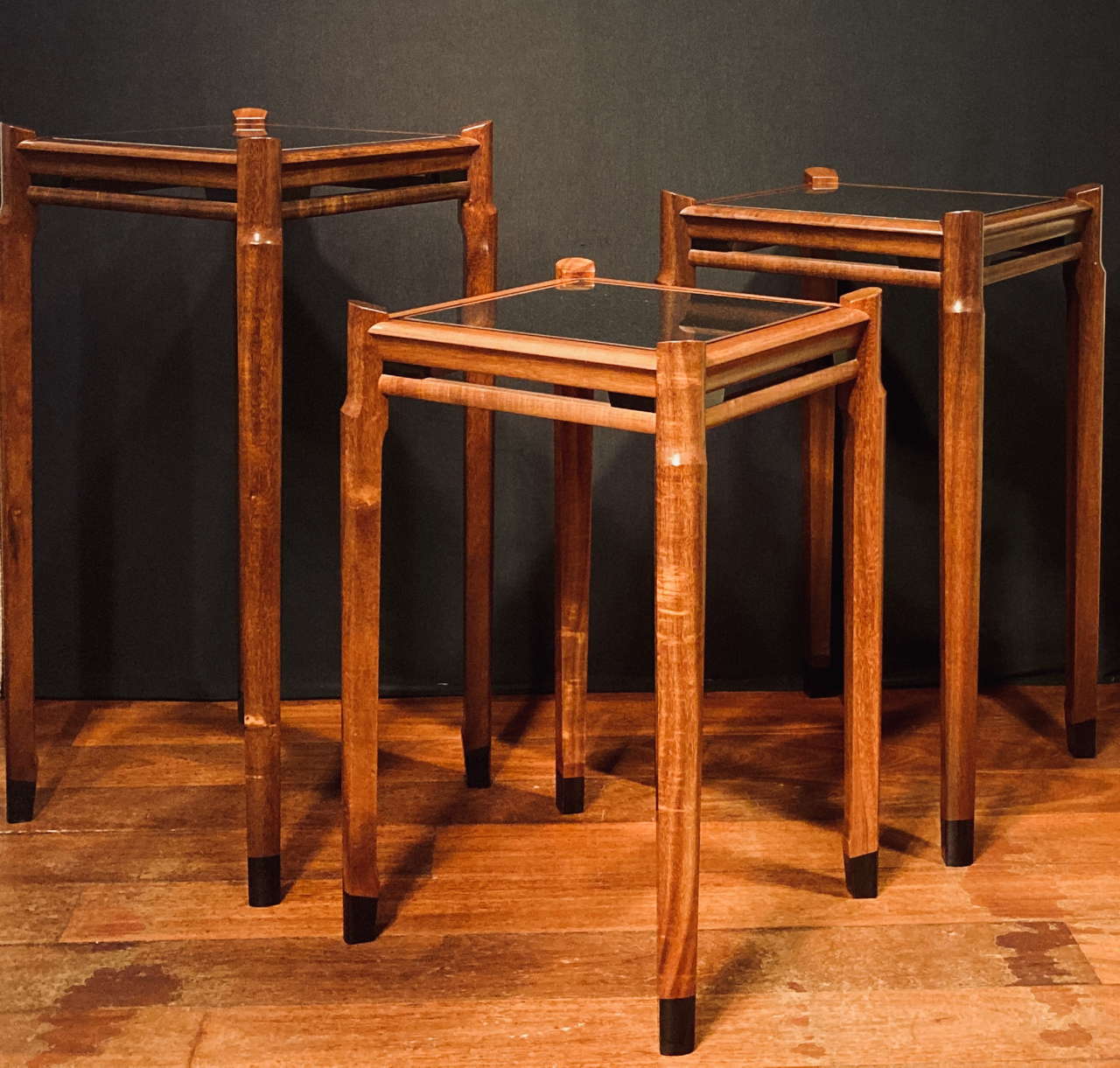 From the Artist
The eye of the furniture connoisseur usually tends to look for superb craftsmanship beyond the beauty of the wood itself. The joinery involved, along with lustrous finishes, is what separates handmade furniture from commercial production pieces.

"Beautiful" is a matter of opinion, but such an opinion usually has something to do with a feeling that an object is elegantly suited to its purpose.

To Gaylord Stadshaug, a master artisan from Hana, Hawaii, the challenge is to join together exotic island woods in such a fashion that allows for both function and beautiful artistic form. Perhaps this is the reason that the works of furniture art created by Gaylord Stadshaug have been so eagerly sought-after by knowledgeable collectors, both on the U.S. mainland, in Europe, and in Asia.

Gaylord is primarily a self-taught craftsman with over 30 years of furniture and cabinetmaking experience. He designs and executes his work with an elegant contemporary feel that is influenced by the classic lines of both the Orient & Europe. He often uses contrasting colors of wood to highlight visual lines as well as to accent the grain and figuring of some of Hawaii's spectacular native hardwoods. He creates one-of-a-kind custom and limited production pieces of furniture. His work is found in homes and offices throughout the Untied States and from Tokyo to London.

He has been a resident of Hana, on Maui's east coast, for over 25 years. Arriving in Hana on a short working vacation, he fell in love with the beauty and people of this small Hawaiian community as well as the islands style of life. It didn't take long to realize that Hana was the right place for him. Gaylord's workshop sits back from the ocean on the green sloping hillside of Haleakala. "Looking up from my work, I see a wide sweeping view of ocean and coastline. I have a constantly changing show of greens & blues, sparkles & mists, light & shadow. This beauty defines my love of Hawaii. The constant and ever changing beauty is a constant inspiration."