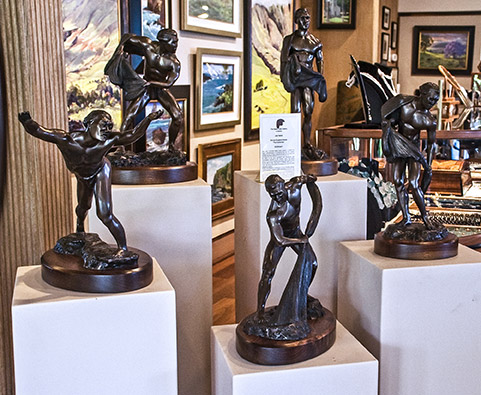 Purchase Joel Nakila's Bronze Sculpture now in our online shop!

Born into a Hawaiian family which continues to respect the legacy and philosophy of an honored past, Joel H.K. Nakila's subjects for his art reflect a personal homage to the devotion and humility that were inherent to everyday Hawaiian life. Nakila was educated at the Brigham Young University Hawaii, where he earned degrees in both commercial art and fine arts. During his senior year at BYUH, Nakila entered the city and county of Honolulu sponsored Hawai'i Open Art Exhibition, an invitational exhibit. It was in this setting that a collector saw his work and purchased four pieces, officially launching his art career. Nakila's name began softly sounding through the Hawai'i art community as he created the collection of Hawaiian characters who populate his growing sculpture repertoir.

As a recent feature article in the highly respected "Island Homes" magazine described him . . . "His hands are those of a laborer: well worn, imbued with the power born of a demanding avocation - wrestling shape and meaning from slabs of raw clay. But Joel Nakila's greatest strength lies beyond the merely physical. His is the ability to invoke the spirit of ancient Hawai'i . . . to create the soft beauty of life in traditional Hawai'i through a medium as hard as bronze."

In adition to the facial expressions and dramatically taut musculature exhibited by his sculpture pieces, this master artisan seems to have reached even deeper, allowing the viewer of his work to "hear" the sound of a beating island drum, to "feel" the heat of the torches illuminating the scenes the artist attempts to capture.