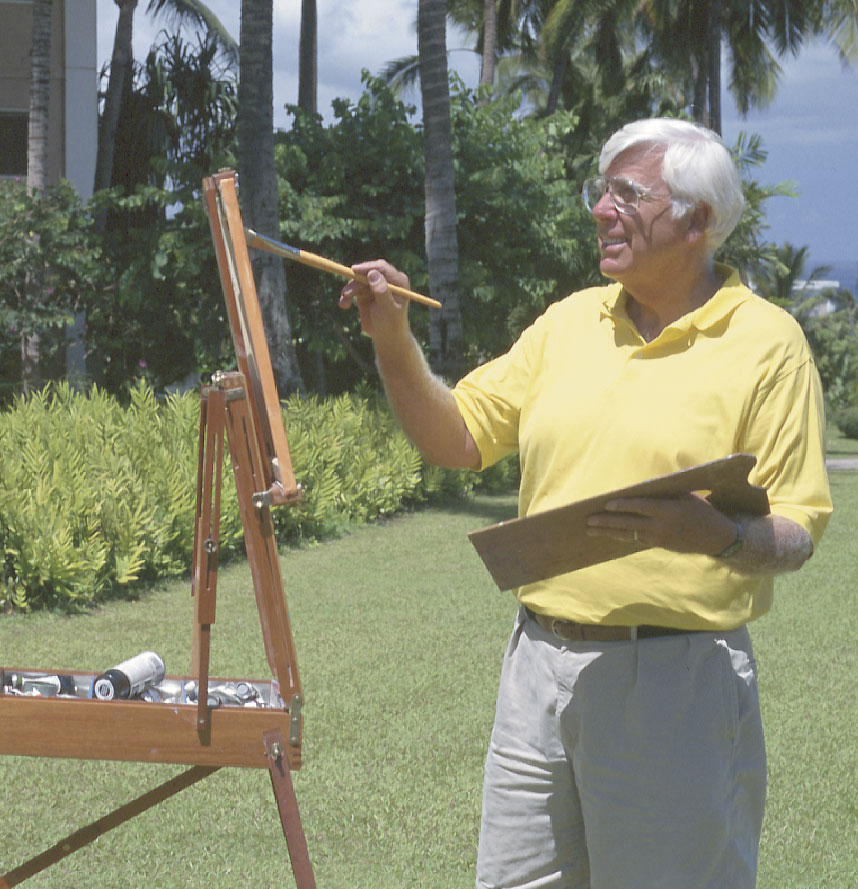 Purchase Ed Lane's Original Oils now in our online shop!

The Discovery of Beauty ~ The Expression of Delight ~ The Art of Exuberance

That is the painting philosophy of Maui artist, Ed Lane, as he searches out dramatic Hawaiian Island vistas, plantation homes, churches and people.

In 1994, Ed completed a successful 36-year career as President and CEO of a large regional advertising agency, headquartered in Phoenix, Arizona. The same year he moved to Maui and fulfilled a lifetime dream by beginning a new occupation as a full time artist. His goal now is to share his enthusiasm for Maui and all of the Hawaiian Islands with others through exuberant oil paintings.

Ed's interest in and training in art began as a child. Surrounded by artists in his family, his creative abilities were recognized and encouraged. He spent much of his youth studying at the Kansas City Art Institute and the William Rockhill Nelson Art Museum in Kansas City.

Ed graduated with a major in history and minor in fine art from the University of Missouri. He served two years as an officer in the Air Force before beginning his advertising career. He excelled in the creative aspects of advertising as a writer and art director. His advertising was hailed by associates and clients as "exuberantly, creative, and above all successful". His creative work received numerous national awards including EFFIEs from the American Marketing Association, and CLIOs. Ed was named Ad Man of the Year in 1995 by the Phoenix Ad Club, served as regional chairman of the American Advertising Agency Association and is a lifetime member of the Mutual Advertising Agency Network.

Today, Ed spends his days either in his Wailea studio or doing plein air paintings in Maui and the other Hawaiian Islands. He has also spent time in Arizona, California, Tahiti and France traveling with his easel and painting supplies, capturing the light, unique colors and vistas of those areas. During the summer of 2003 he participated in an art fellowship in Hungary as part of the International Hungarian Art Exchange Program.