Hover over images for details and price  •  Click on images for larger view  •  Click X in upper right to return to this page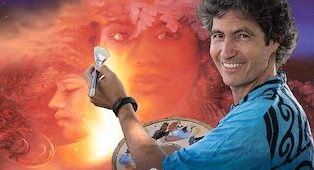 Purchase Steve Sundram Original Oils and Limited Edition Giclees now in our online shop!


In 1979 at the age of sixteen Steve left his native Australia with the aim of encountering as many different cultures as possible, drawing and painting what he saw and experienced along the way. Extended travels in India, Bali, Japan and New Zealand gave him a profound experience of Asian-Pacific lifestyles and landscapes which provided inspiration for his developing talents. The Australian Wildlife Association gave Steve his first one-man show in 1981 and Good Morning Australia introduced him and his work to a national TV audience. In 1988 Steve completed a series of thirteen epic oil paintings depicting the Aboriginal Dreamtime. Burnum Burnum, the internationally famous Aboriginal storyteller and spokesman, helped guide Steve with the various ancient dreamtime legends. The opening celebration at The Rocks, Sydney's historic waterfront precinct, was widely covered by the Australian media and sponsored by Richmond Grove wines. The series were published and sold throughout Australia as fine art prints and note cards.

In 1990, Steve moved to the Hawaiian Islands, a place of dreams nurtured by stories from his mother, and immediately fell in love with the culture, land, and people. He has been a full- time resident of Maui ever since.