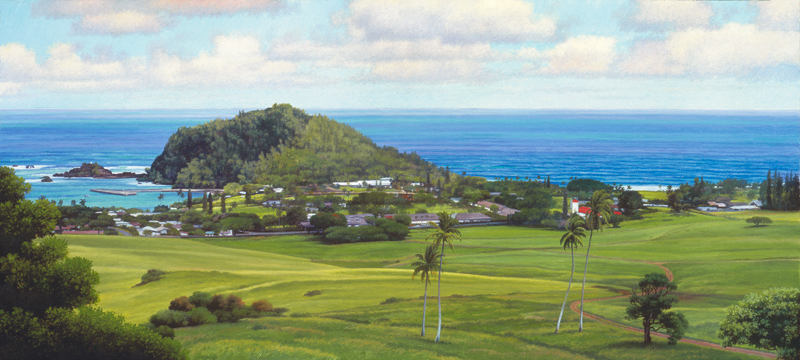 Purchase Gary Reed Limited Edition Giclees and Lithographic Prints now in our online shop!

GARY REED (1948-2015)

Gary was a native of Illinois, and was raised in the small rural community of Woodstock. His talents and interests led him to pursue formal art training at Whitewater State University in Wisconsin. He also studied at the American Academy of Art in Chicago, and at the John Ringling School of Art in Sarasota, Florida.

For a time, Reed worked as a commercial artist, but soon found this field too limiting and restrictive. He moved to Hawaii, and since 1971 has devoted full-time to his own paintings and exhibitions.

Gary said of his art: "What I paint is right out in the open - no hidden meanings, no abstractions. I can best say what I want to say with realistic art." The artist paints reality objectively, but not as if totally detached from that reality. His work is painted empathetically, not sentimentally. Detail is reflected, rather than accentuated, by muted natural colors using soft yet deliberate brush strokes.

His paintings are concerned with every day themes, but they are not ordinary; they transcend the commonplace. Reed's paintings sometimes seem to have been done at another time and place - sort of remembering, yet they are of the present and future as well. They capture the spirit of all times, peoples and places - universal and timeless.

"My life in a rural setting and my paintings - mostly of country landscapes - have a direct connection. I am drawn to open spaces and love the lush vegetation of Hawaii. My hobbies are collecting palms and gardening, they have a tremendous effect on my work and spirit.

"I like to paint slowly and meticulously because I have a vision of the scene in my head and it includes all the details. When I was just beginning, I experimented with many styles and subjects, but kept returning to realism and landscapes. That is when I realized who I am."