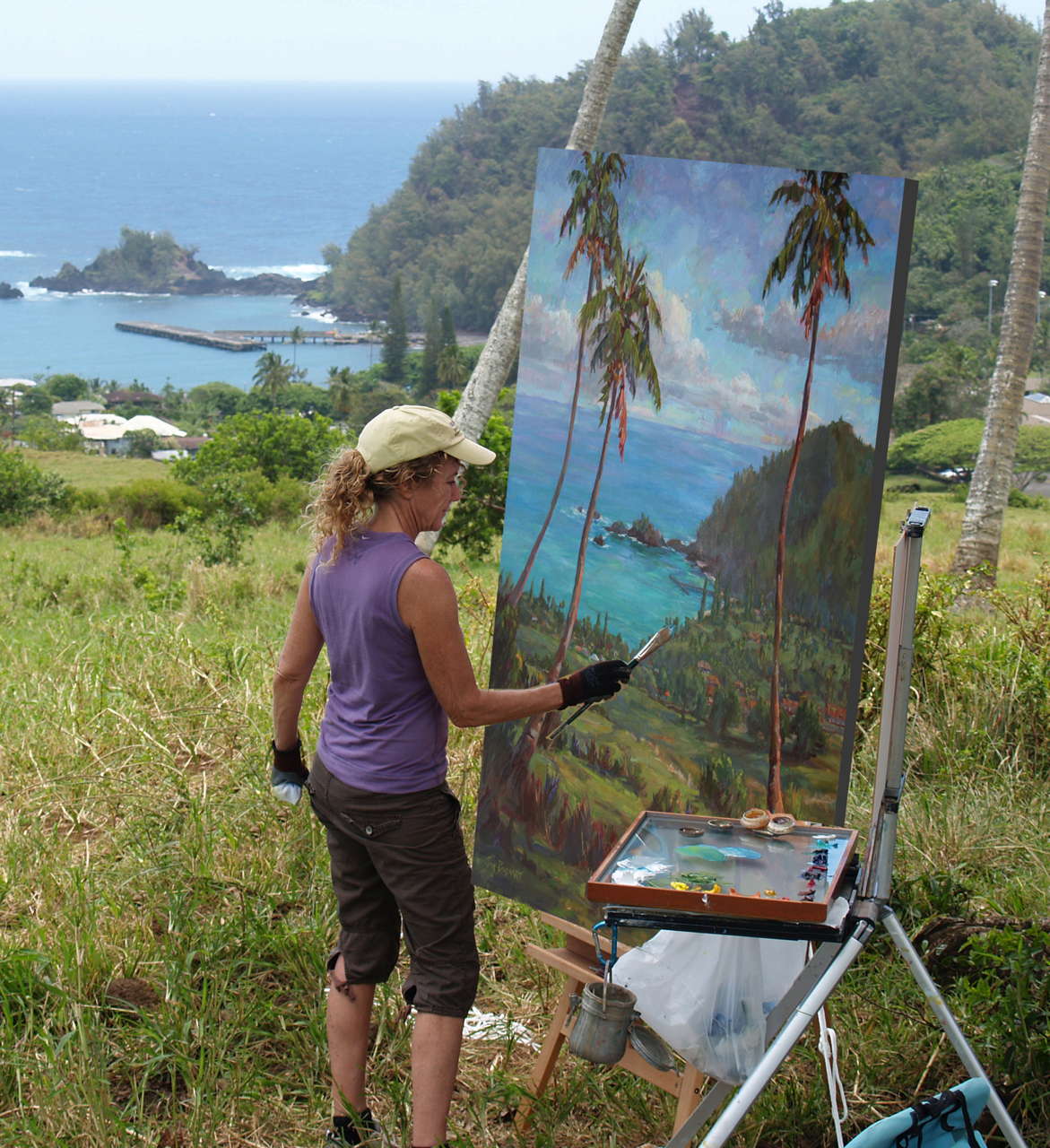 Purchase Jan Bushart's Original Oils now in our online shop!

Inspired by the natural beauty of Hawaii, Jan made the move from California to Hawaii in 1998. At this point, she started working primarily in oils. In 2005 she founded the first state wide outdoor painting group, Plein Air Painters of Hawaii. She remains President of this organization to date and has grown the membership to a community of artists to over 150 members. She has run over 20 events for Plein Air Painters of Hawaii including paintouts and shows on four islands.

Jan's creative parents recognized and encouraged her unusual talent in art. Her father, Ken Smith, still plays cornet with the Golden Eagle Jazz Band and her mother, Flossie Smith, is a painter exhibiting her work in southern California. They raised Jan and three siblings in a noisy, creative household surrounded by art and music. She was encouraged to paint.outside. She continued to paint her surroundings despite the instructors in school trying to convince her to work from photos.

As Jan says of herself, "I have always enjoyed painting from life."

She received a scholarship from the Laguna Beach School of Art while studying watercolor with Roger Armstrong. At that point she knew she would forever be cleaning paint from under her fingernails. She went on to receive a BA in Art from California State University at Chico where she studied with Ann Pierce, Sal Casa and Ken Morrow. She helped support herself in college by selling her paintings. By the time she graduated, Jan was represented by galleries in California, Alaska, Arizona and Hawaii.

Jan Bushart was an invited artist for Islanders Maui Plein Air 2006 and 2008, and juried into the 8th Annual Estes Park Plein Air 2009 Competition and Exhibition. Jan's paintings have recently received awards at "The Great Makawao Paint-out" competition, "Coastal Trees of Maui" competition and received the only award given for the "Islanders Maui Plein Air". She received the Artists Choice award in the second annual "Plein Air Painters of Hawaii Juried Show". Her work is collected by a Hollywood Studios Gallery who lease the paintings to the Hollywood film industry. They have supplied paintings in countless films such as "Million Dollar Baby". Jan's paintings are in private and corporate collections around the world.