Hover over images for details and price  •  Click on images for larger view  •  Click X in upper right to return to this page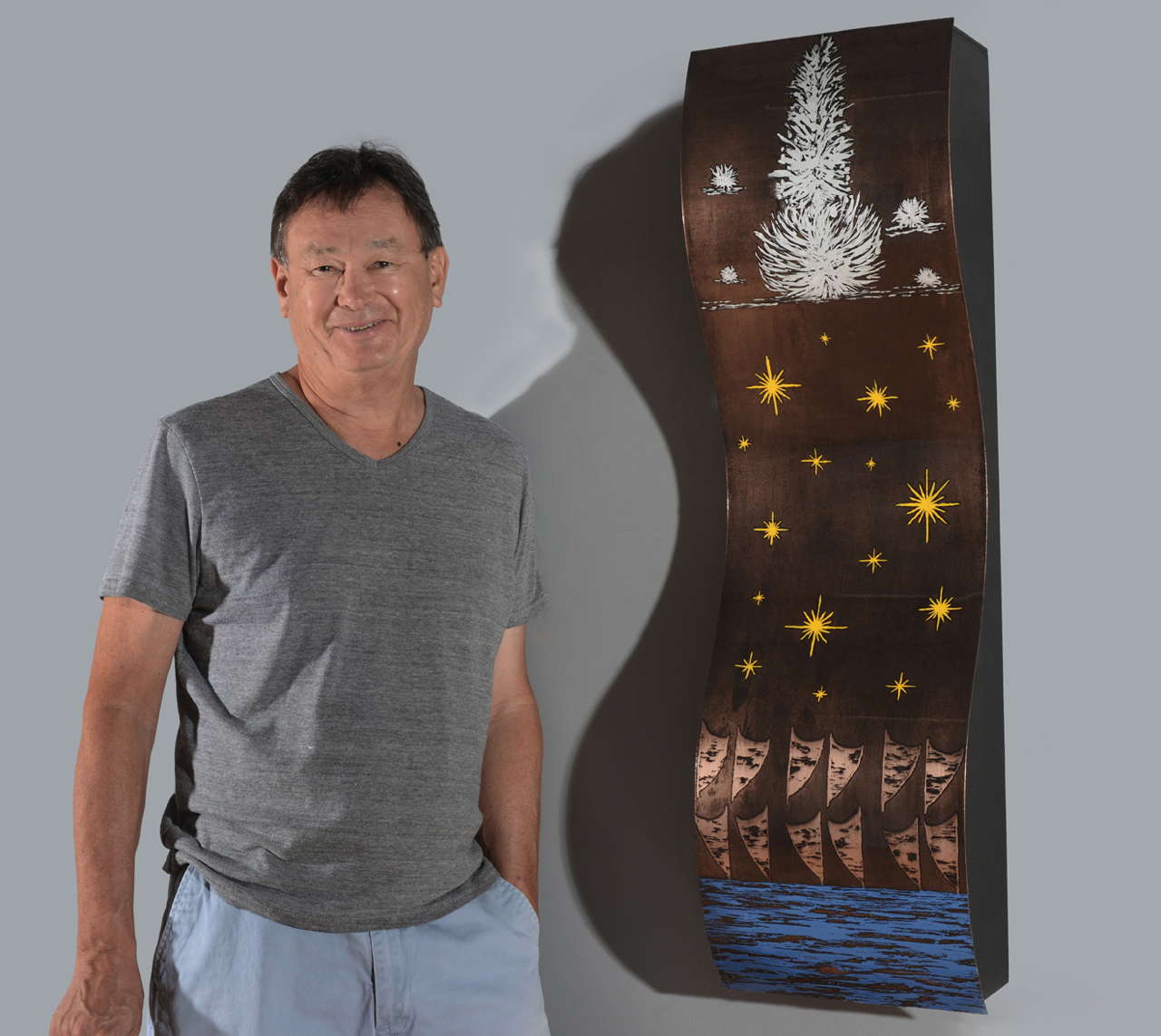 Story Lines
Jim Powlan
Original Etched Copper
40" h x 12" w x 6" d
$3,995

The image is etched onto the copper. Then it is inked, painted, clear coated and hand bent before mounting onto the wood form. The clear coat is the same that would be used on a car and has UV protection so it could even hand outside as long as it was not in direct sun. The lower portion represents the first Polynesians coming here in their sailing canoes. They navigated by the stars and when they arrived they found plants and animals like the Silversword that existed only in these remote island we call home.
Purchase Jim Powlan's Copper Etchings now in our online shop!

I'm a blend of Asian and European descendants and that is carried into my art. I combine traditional European etching techniques with traditional Japanese scroll mounting. I add my modern sense of design, with clean and direct elements, to this complex art form. The results are contemporary and always one-of-a-kind. Each piece is a completely handcrafted work of art full of color and texture. It is my desire that my work creates a sense of peace, stillness, and balance while drawing you in for a closer look. My ultimate goal is to bring that, and more, to all viewers and collectors of my work.

Each piece, while modern, is created using an ancient process – copper etching. The copper surface is masked with resistant material - a liquid tar - and then submerged in ferric chloride. It is never submerged for more than two hours before it is rinsed and then re-submerged again for a total of 24 hrs. The resist area is unaffected while the unprotected surfaces slowly are etched away creating a deep relief image in the copper.

Printing is the final stage. I ink the plates and then lay dampened silk on them. They are then rolled through my printing press with many hundreds of pounds of pressure; the image is virtually embossed onto the silk.

Over the years my copper plates themselves have become sought after. I sometimes create them as a stand- alone piece, never printing them. I ink them and clear coat the entire surface. They are sometimes mounted on silk and framed and sometime presented just as the copper. Because the copper pieces are clear coated with a UV lacquer they are able to be hung outside as well as inside.