Hover over images for details and price  •  Click on images for larger view  •  Click X in upper right to return to this page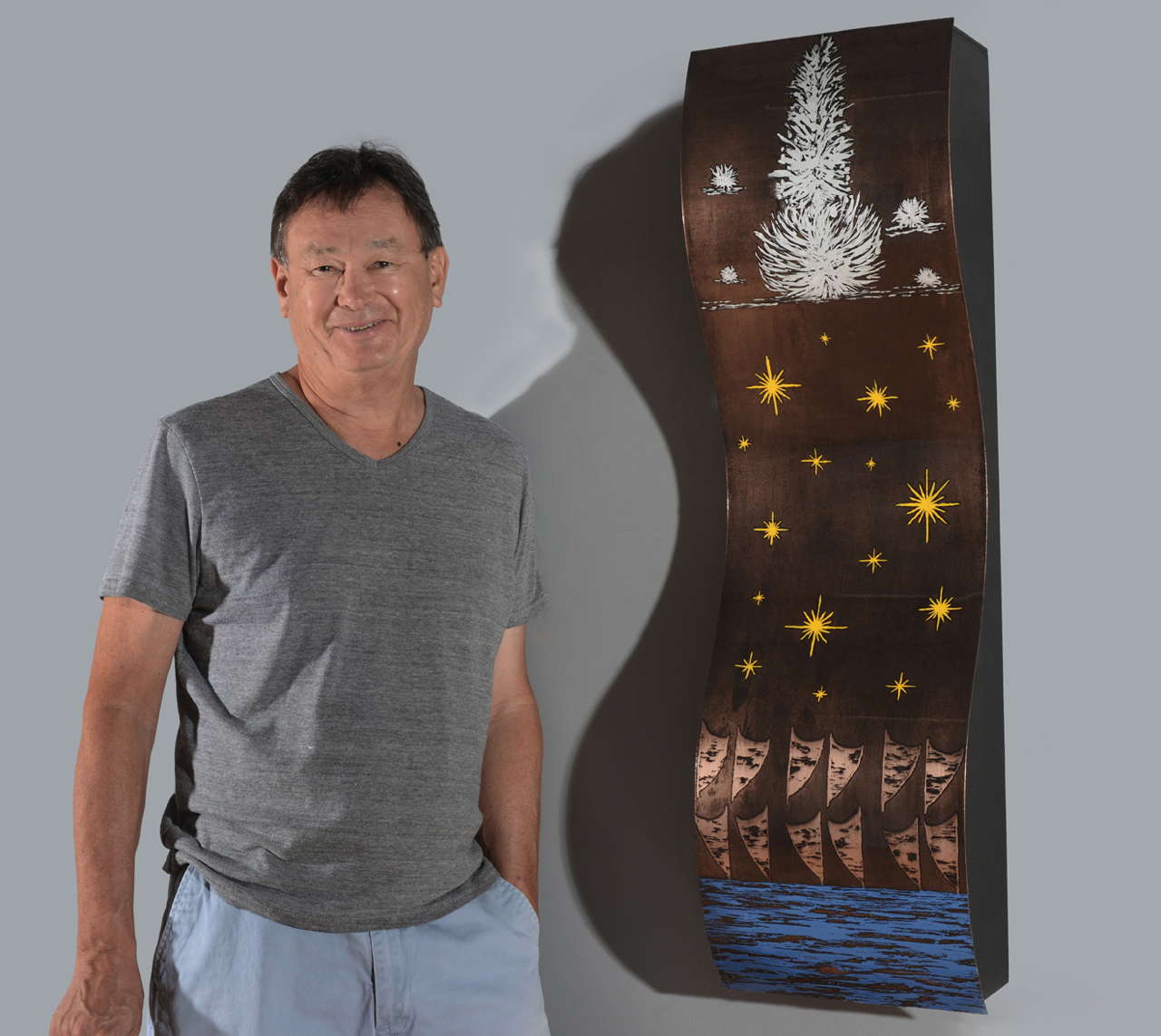 Story Lines
Jim Powlan
Original Hand Pulled Etching on Copper
40" h x 12" w x 6" d
$3,995

The image is etched onto the copper. Then it is inked, painted, clear coated and hand bent before mounting onto the wood form. The clear coat is the same that would be used on a car and has UV protection so it could even hand outside as long as it was not in direct sun. The lower portion represents the first Polynesians coming here in their sailing canoes. They navigated by the stars and when they arrived they found plants and animals like the Silversword that existed only in these remote island we call home.
From the Artist
Jim Powlan began his career as a Printmaker in 1977. He is an Aquatint specialist and perfected his Aquatint process at College of Marin in California. It was there that Jim came up with the innovative idea to use an airbrush to spray a resistant on the copper metal plates he works on.

Aquatint itself is the process of melting tree resin particles onto a polished metal plate to control how the acid eats into the metal plates. Every step is done by hand from cutting and polishing the copper to the inking and printing of the plate. Aquantint has been used for hundreds of years by famous Printmakers such as Rembrandt van Rijin in the 1600's, Goya in the mid 1700's to early 1800's and later Pablo Picasso.

Shades and tonal areas are etched in the Aquatint process. Microscopic rosin dust is melted onto the plate. Each tiny particle of rosin protects a surface of the plate. The acid eats around a field of these particles and cuts microscopic shapes. The ink gathers at the base of these in the printing process and prints a continuous tonal area.

Artist-etcher Jim Powlan could easily be called the Rembrandt of Maui. Rembrandt Harmensz van Rijn (1606-1669) was one of history's most consummate etchers. One of a kind deep relief prints done on silk and painted images on etched copper plates. "I start with polished copper plates and then etch my plates in acid for 24 hours 1 hour at a time. This simulates the bumps and bruises, highs and lows of life creating deep relief images etched into the plate. Areas that are not etched are covered with an acid resistant coating called Asphaltum."

"I hand ink the copper plates and print on silk from Japan or India. I will only print an image 5 times and may also ink the copper plate and then clear coat it creating an original companion piece for the prints. My hope is that all my images will create a sense of peacefulness and serenity in the viewer by giving them a feeling of something that has balance and is old yet new."

James' prints are hand pulled and printed on handmade paper or Kimono Silk. The Kimono Silk is put together in the same traditional way Japanese scroll makers have done for hundreds of years by backing the silk with handmade Japanese Hadaura peper. Only 15 images are printed off of each plate and each is done on a different silk, making them one of a kind.