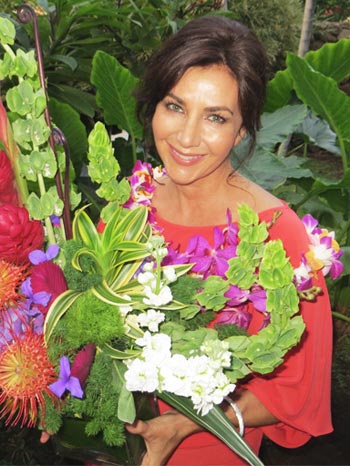 Purchase Kim McDonald's Original Oils and Giclees now in our online shop!

With vibrant colors, an intensely personal style, whimsical borders and a touch of fantasy, Kim McDonald's oil paintings capture the exotic island spirit of the South Pacific. Her art accentuates the ever-changing moods of island weather, lush foliage and the deep sensuality of the Polynesian people.

The rich textures and loose brush strokes of this celebrated and innovated artist are reminiscent of the post impressionists' and Fauve tradition. Her art accentuates the unspoiled island life in a style descended from tropical Gauguin.

Kim McDonald, one of Hawaii's pre-eminent artists, has captured numerous "Island Goddesses" in her portrait series, but it is tempting to view her evocative seascapes as the conjurings of another island goddess--Kim--caught in the act of lovingly bringing her cherished islands and oceans to life.

The lush colors flow in an evocative, swirling scene of island abundance. All of the artist's signature techniques are evident: the bold, rich Fauve palette, the naïf style that seems to effortlessly channel Gauguin, the sense that there is definitely something more here than meets the eye; something mythological, something evoking the deep timeless soul of the South Pacific.

Kim has been one of Hawai'i's celebrated artists for 16 years. This hard-working, local celebrity has many well-heeled admirers.